WAYNE GRETZKY
Wayne Gretzky began skating just before turning three and soon after, his father, Walter, built a skating rink in the backyard. Gretzky spent hours out there, occasionally coming in to have his toes warmed between the hands of his father. Those early years would infuse in him the simple pleasures of playing hockey - an attitude that would help him blast many records in hockey.
Gretzky was born January 26, 1961 in Brantford, Ontario to Walter and Phyllis Gretzky. He was their first child and became big brother to Kim, Keith, Glen and Brent. The Gretzkys were a close family. Gretzky remembers his grandparents (Walter's parents) who lived nearby on a farm; they would spend nearly every weekend there. The home rink existed for four years, dubbed "Wally's Coliseum".
"All I wanted to do in the winters was be on the ice. I'd get up in the morning, skate from 7:00 to 8:30, go to school, come home at 3:30, stay on the ice until my mom insisted I come in for dinner, eat in my skates, then go back out," reminisces Gretzky in his autobiography (Harper Collins Publishers, 1990).
By the age of six, Gretzky was ready for bigger things. He tried out with the Novice A Division Nadrofsky Steelers and played with 10-year-olds. He scored only one goal the first season but the next year, he was up to 27 goals. His scoring ability improved dramatically and by his fifth year (1971/72), he reached an astonishing 378 goals. A newspaper in London, Ontario dubbed him "the Great Gretzky."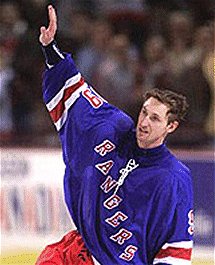 Shooting up the hockey ranks
In 1972, Wayne Gretzky had a momentous meeting. He was invited to a Kiwanis "Great Sportsmen" dinner with the likes of Joe Thiesman and his hockey hero, Gordie Howe. At the dinner, Howe gave him advice: work on your backhand. As Gretzky rose in the ranks of the NHL, Howe would become a close friend.
From 1972 to 1973, Gretzky moved on to the peewee league, playing for Turkstra Lumber. At the age of 13, he had 1,000 goals under his belt. But the joy of being a good player was overshadowed by jealousy. Other hockey parents called him a "puck hog" and older boys threatened him. Gretzky sometimes went home from a game in tears.
Wayne Gretzky went on to play in the Toronto Junior B league, with 20-year-olds. At 16, the Sault Ste. Marie Greyhounds drafted him to play in the Ontario Hockey Association. He wanted the number "9" - Gordie Howe's number - but it was already taken. His coach suggested doubling it to "99" and from then on, it became his playing number. That year, he set Junior A record for most goals, assists and points in a season by a rookie (70-112-182) and nabbed several awards including "smartest player." Teammates called him "Ink" because of the articles written about him: Maclean's, Sports Illustrated and the New York Times wrote about the new hockey dynamo.
Gretzky turned pro at 17 with the World Hockey Association's Indianapolis Racers, who then traded him to the Edmonton Oilers. Gretzky captured the WHA rookie of the year award with 46 goals and 110 points. Fans gave him standing ovations for his passing and stick handling. In 1979, the NHL absorbed the cash-strapped WHA, adding Edmonton to its roster. Although he had a slow start, plagued by tonsillitis, Gretzky managed a 51-goal season - the youngest player in the NHL to reach 50. His lightening skating and puck handling skills won raves from fans, players and coaches.
"Gretzky sees a picture out there that no one else sees," Boston Bruins General Manager Harry Sinden would say.
He won the Hart Memorial Trophy (the player most valuable to the team) and the Lady Byng Trophy for his sportsmanship. He would garner the Hart ten times and the Art Ross (the league scoring title) in seven consecutive seasons.
A team of superstars
The following season, the Oilers acquired Paul Coffey, Jari Kurri, Glenn Anderson and goaltender Andy Moog. Along with Kevin Lowe, Mark Messier and Wayne Gretzky, the group would become the nucleus of the team --- a hard-to-beat roster of talent. Throughout the eighties, the Oilers soared with Gretzky averaging 192 points a season. In one week (March 30 to April 1st) in 1981, he broke Phil Esposito's single-season points total record (152) and Bobby Orr's single-season assist record (102). He began the 1983/84 season with a 51-game consecutive scoring streak. From 1980 to 1988, the Oilers reached the Stanley Cup Finals five times, winning the Cup four times.
Gretzky flew his family to Edmonton to watch his team defeat the New York Islanders in 1984 to win the Stanley Cup for the first time.
"I've held women and babies and jewels and money, but nothing will ever feel as good as holding that Cup," wrote Gretzky in his 1984 autobiography.
During that time, Gretzky's life expanded. He did charity work on top of signing on as a spokesperson for various companies and products. His name was associated with cologne, sportswear, a video game, wallpaper, lunch boxes and a life-insurance company. He had also been dating singer, Vicki Moss, since 1979 and became close to her brother Joey, who had Down's Syndrome. Gretzky got him a job in the Oilers' locker room. Vicki's mother answered Gretzky's fan mail, about 1,000 letters a month.
Gretzky was a crucial component of the 1984 and 1987 Team Canada crews that won the Canada Cup. In the '87 final against the Soviets, Gretzky tipped the puck to Mario Lemieux, touted as the NHL's next superstar, who scored the winning goal.
"Wayne is probably the best passer who ever played the game," Lemieux was quoted in news reports.
A sudden and massive change
By 1988, the Oilers would garner their fourth Cup and in July, Wayne Gretzky married an American actress/model named Janet Jones (he had broken up with Vicki the year before). It was dubbed Canada's Royal Wedding and the couple exchanged vows in Edmonton's biggest Roman Catholic church with 700 guests watching. Gordie Howe, Soviet goalie Vladislav Tretiak and Canadian actor Alan Thicke were also there.
The joy was short-lived. Oilers' owner Peter Pocklington's various business interests were crumbling, so he traded Gretzky to the Los Angeles Kings. He received $15 million US on top of the trade. Fans were devastated. Many lashed out at Jones, blaming her for the move. At the August news conference, Gretzky gave a tearful speech, breaking down midway through a sentence.
In the days after, Pocklington accused Gretzky of having "alligator tears." Fans burned Pocklington in effigy outside the Coliseum. Letters were sent to the Canadian government to stop the trade, but it was a done deal.
Season ticket sales for the L.A. Kings doubled. At Gretzky's first appearance in Edmonton in a Kings uniform, Canadian fans gave him a four-minute standing ovation. The Oilers won 8 to 6. The Kings finished the season in fourth place overall but the couldn't get past the Calgary Flames in the playoff rounds. The following season, Gretzky would return to Edmonton for a landmark game -- he was about to surpass Howe's all time points total of 1,850. With 53 seconds left in the game, Gretzky scored a backhanded goal.
In succeeding years, Gretzky would bring his team closer to the Cup. In 1993, the Kings trounced the Toronto Maple Leafs in a thrilling seven-game series, only to be defeated by the Montreal Canadiens in the Stanley Cup final. During his five seasons with the Kings, Gretzky became friends with team owner Bruce McNall. The two would invest in racehorses and in 1991, along with Canadian comedian John Candy, they purchased the Toronto Argonauts. Gretzky's friendship with McNall came under a cloud after McNall's business empire crashed in the mid-90s and he was jailed for fraud.
The last game
Gretzky left the Kings to join the St. Louis Blues for the 1995/96 season but quickly jumped to the New York Rangers the following the year, joining his former Oilers' pal, Mark Messier. The next three seasons with the Rangers would be a rollercoaster. Although he led the team in scoring, the team failed to gel around him --- his passes would often be missed by teammates. By March 1999, he had 1072 career goals in the WHA and NHL. Gretzky never stopped loving the game.
"When young guys ask me how come I'm always so perky, I tell them, 'Hey, we're being paid to play this game. Enjoy it because some day, it will be gone,'" said Gretzky in his 1994 pictorial autobiography, "My Life in Pictures".
During the spring of 1999, rumours abounded that the Great One was about to retire. His last game in Canada was April 15, 1999 in Ottawa. Fans held signs saying "Wayne Please Don't Retire" and "Just One More Year Wayne." After the game, there was not a 'three-star selection'; Gretzky was chosen as the only star of the game. Three days later, he played his final game at Madison Square Gardens in New York. After the game, he held a news conference.
"My gut, my heart is telling me this is the right time. I'm done. I have not wavered at all and I will never play again."
Later that same year, he was inducted into the Hockey Hall of Fame in Toronto. The NHL retired the number 99 and the City of Edmonton re-named the freeway leading to Northlands Coliseum, Wayne Gretzky Drive. There's also a statue of him in front of the Coliseum.
In 2000, Gretzky joined the management of Team Canada and under his leadership, it won the gold medal in the Olympic Winter Games in Salt Lake City. He served as executive director of Team Canada for the 2004 World Cup of Hockey, formerly the Canada Cup. The team won over Finland. Gretzky is also co-owner of the NHL Phoenix Coyotes.
He works with countless charities, including Ronald McDonald Children's Charities, and his foundation helps disadvantaged children across North America participate in hockey.
Wayne Gretzky is also a dedicated father. He and Janet live in California with their five children: Paulina, Ty, Trevor, Tristan and Emma. Ty and Trevor play hockey and Paulina is studying ballet.
In a 2004 interview with CBC Radio's The Inside Track, Gretzky said raising children was harder than playing hockey.
"I teach them that manners go far in life and they should respect the people they spend time with."
Wayne Gretzky teaches his children the same qualities that made him a champion in every part of his life.