Mario Lemieux
why we like him?
He is the best thing in the NHL right now. He is a wonder to watch, hockey's semi-equivalent of Michael Jordan . Most of all, he gives 100% when he plays. We love hard workers.

why is he famous?
He is one of the greatest hockey players in the history of the NHL , if not the greatest. He has won 2 Stanley Cups, 6 scoring titles, and the MVP award 3 times. He is among the Top 10 all-time in goals, assists and points, and has a point-per-game average only Wayne Gretzky can beat. He is also known as Super Mario, and for good reasons.
biography

Born October 5, 1965, in Montreal , Quebec, Mario, like most Montrealers, grew up adoring the Montreal Canadiens and idolizing the team's many legends, specifically Guy Lafleur. His parents lived a modest life; his father, Richard, was a construction worker, while his mother stayed home and took care of Mario and his two brothers.

Mario Lemieux, known commonly throughout the sports world as "Super Mario," is a true hockey legend; he has done and continues to do so much for the sport. Mario will not only be remembered as one of the greatest players, but as one who changed the game and brought innovation to a sport he loves.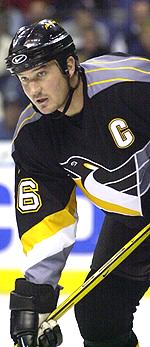 getting to the ice

His parents supported his passion for the sport; his father would create a homemade rink on the front lawn so that the boys would be able to practice whenever they chose to. Mario chose to pursue his hockey career while staying local and competing for his entire junior career in Quebec. Not surprisingly, Mario dominated at every level of junior hockey, including 247 goals and 562 points in three seasons in the Quebec Major Junior Hockey League (QMJHL), while establishing a single season record of 282 in 1983.

Given his astonishing junior career, it was no surprise to anyone when Mario was selected first overall in the 1984 entry draft by the Pittsburgh Penguins . Mario began his brilliant NHL career on October 11th 1984, against the Boston Bruins, and made an immediate impact by scoring a goal on his first shift. During this rookie season, Mario scored exactly 100 points and was named the NHL's Rookie of the Year.

collecting awards

Mario proved that his rookie season was no fluke by following it up with a 141 point season in 1985-86 while earning the first of four Lester B. Pearson Awards as the NHL's most valuable player (as chosen by his peers), and the first in a string of All-Star appearances. In the 1987-88 season, Mario earned his first of three Hart trophies, given to the league's MVP, and his first of six Art Ross trophies, given to the league's top scorer.

The following season, Mario registered his highest point total ever by scoring 199 points, 1 shy of the 200 mark only eclipsed by Wayne Gretzky, and more importantly, got the Penguins through an impressive playoff run that saw them lose in the semi-finals. However, in the 1990-91 season, Mario was able to lead the Penguins to the ultimate glory as they defeated the Minnesota North Stars (currently the Dallas Stars) in the Stanley Cup Finals.

Mario was named the playoff MVP and received the Conn Smythe trophy. The following season, Lemieux and the Penguins repeated as champs, defeating the Chicago Blackhawks, this time while Lemieux was again given the Conn Smythe trophy as Playoff MVP.

against all odds

In January of 1993, while having an incredible season, Mario was diagnosed with a nodular lymphocytic form of Hodgkin's disease, a treatable type of cancer. Mario immediately began radiation treatment while continually stating his desire to get back before season's end.

Mario's treatment was intense and ran from Feb 1st to March 2nd and as a surprise to many, Mario returned to the ice the day of his final treatment, and scored a goal and added an assist. Amazingly, Mario scored 56 points in the remaining 20 games after his return to the lineup, capturing several awards, including the Art Ross and Hart trophies.

After being eliminated from the playoffs in 1993, Mario wed his long-time girlfriend, Nathalie Asselin on June 26th; they currently have four children. The following two years of Mario's career were dominated by injury; he did not play much in the 1993-94 season due to a herniated muscle in his back and sat out the entire 1994-95 season with continuous back ailments.

However, the 1995-96 season proved to be an incredible comeback year for Mario as he piled up 161 points in 70 games and added another Art Ross trophy. The 1996-97 season was much of the same for Mario as he again led the league in scoring, however, it was his final season. Mario announced that he would be retiring at season's end, stating his back injuries and the tight checking style that began to dominate the game as the main causes.

diagnosis: retirement

Mario received standing ovations from both crowds and players towards the end of the season. His final game was against the Philadelphia Flyers on April 26th, 1997, when his Penguins were eliminated from the playoffs. Mario was quickly inducted into the Hall of Fame on November 17th of the following season and his number -- 66 -- was retired by the Pittsburgh Penguins.

Mario's retirement did not end his relationship with the Penguins, who continued to owe him a salary according to his contract. However, when the team ran into financial trouble and bankruptcy, Lemieux decided to use the amount of salary owed to him to gather a number of investors and head a group that eventually purchased the team. As owner, Mario vowed to return Pittsburgh to the hockey crazy town it was when he laced them up for the Penguins.

On Dec. 8, 2000, the Pittsburgh Penguins announced that Mario Lemieux would be returning to the Penguins as a player. This move was unprecedented as Mario would be both owner and employee of the same organization. Lemieux's desire to come back was fueled by several factors, most importantly, according to Mario, was to allow his youngest son to see his father play.

super mario returns

Mario returned to the ice on December 27th, 2000 and did not seem to miss a beat, scoring one goal and adding two assists. Since his return, Mario has continued to play at a high level; he was also named to the 2000-01 All-Star team and has been nominated as Captain of Canada's Olympic team.

It is interesting to note that Mario is an excellent golfer; this hobby takes up most of his free time. Furthermore, Mario is extremely generous, as he hosts and appears at several charity golf outings throughout the year and oversees the Mario Lemieux Foundation for cancer research.